Project Snow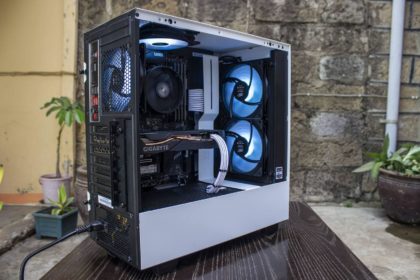 Project SNOW is set to be the highest spec build we've worked on (so far). Not to lose out on aesthetics, we even got some sleeved cable extension cables just to make the build 'beautiful'. It wasn't easy working with the extra cable length but the results were worth it.

We'll update the post when the final part comes. Stay tuned and hope you like the build.
Finally the processor arrived after almost 4 months of waiting. Now we can share this beast of a build. Will get more photos after install.
Specifications
AMD Ryzen 9 3900X (12 cores / 24 threads) (updated)
MSI X470 Gaming Pro Carbon
Ballistix Sport LT 64gb DDR4 3000Mhz
Gigabyte Windforce RTX2060 Super 8gb
XPG sx8200 pro 512gb m.2 ssd
Crucial P1 500gb m.2 ssd
Seagate IronWolf 6tb
Coolermaster MWE 650W Gold Modular
NZXT H510 ATX case
 Feel free to request an updated quote for this build 
Gallery