Project Oasis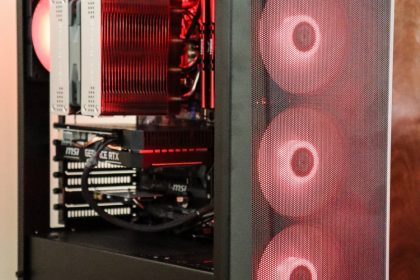 Oasis – something that provides refuge, relief, or pleasant contrast. So deep… or so you would think. The name actually came from the movie "ready player one", a virtual world where you could live the impossible. So we thought the name would fit for a VR rig.
At the time the human malware hadn't yet forced us into self isolation and we got the opportunity to build the PC at the clients home. Thanks K+R for your hospitality. The build turned out great, definitely instagram-worthy.
But don't be fooled by the looks, performance is good too. With a mix of Ryzen 3600 + RTX2060 Super, 1080p gaming is butter smooth. Cooling was a bit overkill but that's okay, space for upgrades in the future.
As a closing note, we'd like to thank the client for the support. Always a pleasure getting to meet and work for new clients.

AOB: Remember to keep friends and family safe, Wash your hands.
Specifications
AMD Ryzen 5 3600 (6 cores / 12 threads)
MSI B450 Tomahawk Max
Thermalright FS140
Team Vulcan-Z 32gb DDR4 3200Mhz
MSI Ventus RTX2060 Super
EVGA G+ 650w Gold
WD Blue SN550 500gb nvme ssd
Seagate Barracuda 2TB hdd
Phanteks P400A
Fenvi FV-AX3000 pci-e Wi-Fi 6 + Bluetooth 5.0
 Feel free to request an updated quote for this build 
Gallery