Project Nova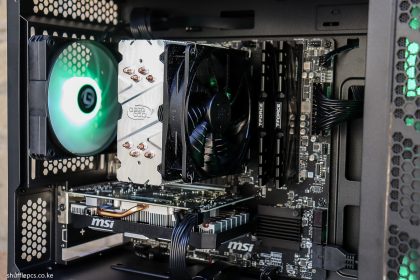 Project Nova is our first pre-built PC product. We got the chance to discuss the specs (and name) with thewatchmen e-sports point man HirsiHD. Plans were to be stocked by February 2021… But the parts shortage can't be helped.
Nova is an entry level gaming PC that delivers great bang for buck 1080P gaming performance and the flexibility to upgrade (if need be).
With the base build you get compatibility with next gen CPUs, graphics cards and nvme gen4 storage at a minimal cost penalty. I'm sure some clients will turn this setup into a full on workstation… haha.
What do you think of the setup? Give us your feedback 🙂
*price – we were aiming for the 1,000$ range. As of writing that will highly depend on how things work out over the coming months*
Specifications
AMD Ryzen 5 3500x Processor (6-Core 6-Thread)
MSI B550m PRO-VDH WiFi
Deepcool Gammax 400s Cooler
Team Dark-Za 16GB (2 X 8GB) 3600MHz Memory
Coolermaster MWE550 – 80+ Gold 550W Power Supply
MSI Ventus GTX1650 Super 4GB GDDR5 Graphics Card
WD Blue SN550 1TB NVMe ssd
Coolermaster MB400L mATX Mid-tower Case
MG Skiron120 PWM RGB Fans
 Feel free to request an updated quote for this build 
Gallery