Project Mufasa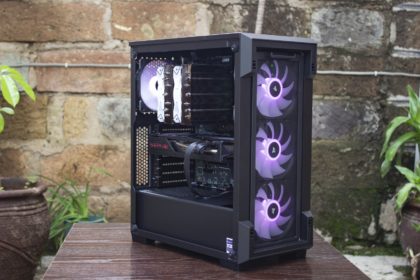 Project MUFASA is a gaming / streaming build for @simbaultimate's MojAY.
MUFASA is a Gaming / Streaming (YouTube Link) build and we're looking forward to see how it hold up to constant heavy loads. Getting the chance to build a PC for esports players is a good opportunity to display the time and expertise we put into building our machines, and we're confident the setup will deliver.
Let's see what we can improve upon as we get feedback. Thanks again MojAY.
Side Note: The iCUE 220T is a good case but cable management can be a nightmare especially if you have a longer PSU. Go for something short like the EVGA G3… Had to Install the drive cage later and battle with the 24-pin power cable. Airflow is the best I have ever seen so far.
Specifications
AMD Ryzen 5 3600 (6 cores / 12 threads)
MSI B450 Gaming Pro Carbon AC
XPG D60 16gb DDR4 3200Mhz
Sapphire PULSE RX5700 8gb
Crucial P1 1tb m.2 ssd
Seagate Barracuda 2tb
DeepCool DQ650-M 650W Gold Modular
Corsair ICUE 220T RGB ATX case
 Feel free to request an updated quote for this build 
Gallery