Project Irish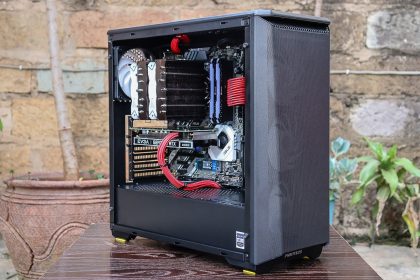 Project Irish (luck of the Irish) is our build opener this year.

Our esteemed client needed a robust workstation PC for CAD and Architecture work. Rendering will be on the task list too. We happened to come across some good deals as we were working on this build, thus the name IRISH. (That good luck includes shipping time, supplies are a bit harder to get as of writing.)

Storage is taken care of by dual ssds (for Boot and Work files). We somehow got our hands on the just released RTX 2060 KO. Supplies were still scanty. Ryzen 2700X cpu to save on cost but future upgrades should be a breeze with the X570 motherboard. One more advantage is 128GB ram compatibility out of the box.
We would like to thank the client for her patronage and patience waiting for parts to arrive. Thank you! May the luck of the Irish follow you.

AOB: Remember to keep friends and family safe, Wash your hands.
Specifications
AMD Ryzen 7 2700X (8 cores / 16 threads)
Asus Prime X570-P
GeLid Phantom Black Cooler
CORSAIR Vengeance RGB Pro 64gb DDR4 3200Mhz
EVGA RTX2060 KO Ultra 6gb
WD Blue SN500 250gb m.2 ssd
WD Blue SN500 500gb m.2 ssd
Seagate Barracuda 2tb 3.5″ hdd
Corsair TX550M 550W Gold
Fenvi AX3000 wi-fi6 + Bluetooth 5.0 PCI-e card
Phanteks P400 Digital ATX case
LG 27UL600 4K monitor
 Feel free to request an updated quote for this build 
Gallery