Project Bolt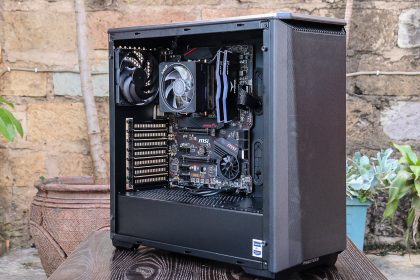 Project Bolt is a simple barebones machine. The main focus was on a fast CPU for processing code. We kitted the machine with a Ryzen 3700x, NvMe storage and 16gb to get the client going.

Other parts will be kitted out later. You may wonder why the name Bolt? During testing, we realized the setup would stay very cool and would boost better than your usual 3700x. Definitely won the silicon lottery.
We would like to thank #jobkwetu for the opportunity to work on their machine and look forward to see what software they'll be working on. Thank you!

AOB: Remember to keep friends and family safe, Wash your hands.
Specifications
AMD Ryzen 7 3700X (8 cores / 16 threads)
MSI MPG X570 Gaming plus
Team Delta-R 16gb DDR4 3000Mhz
Sabrent Rocket 250gb m.2 ssd
Deepcool DQ550m 550W Gold
Phanteks P400a ATX case
 Feel free to request an updated quote for this build 
Gallery