Project BackPack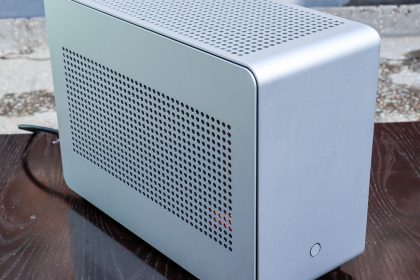 Project Backpack is our first SFF build this year! As the name suggests the client needed a pc to use on the go… Workstation to be precise.
Don't let the small size fool you. Back pack sports a 8core 16thread ryzen 5800x that we tuned to an all core boost of 4.3ghz. CPU temps maxed at around 75degrees and fans don't need to run at 100% to keep the pc cool.

Actually the machine runs extremely quiet and can be used on the desktop comfortably. Partially thanks to storage running only on ssd and the zero rpm mode of the power supply. We opted for the PCIe Gen4 WD SN850 which is currently the fastest standard storage option for desktops (as of writing… not considering raid?)

Overall the build turned out great and will probably outperform most full desktop PCs out there while looking awesome. The Geeek G1-SE case is really nice and simple to work with once you learn your way around.

GPU? Unfortunately due to shortages we couldn't get any in time, but hopefully the build will be sporting a high end gpu soon.
Thank you to the client for the opportunity to work on their machine. Was a nice change of pace.

AOB: Remember to keep friends and family safe, Wash your hands.

Specifications
AMD Ryzen 7 5800x (8 cores / 16 threads)
GIGABYTE B550I AORUS PRO AX
EK AIO 120
TEAM DELTA-R DDR4 32GB (2x16GB) 3600MHz
Corsair SF750 – 80+ PLATINUM
WD BLACK SN850 1TB NVME PCIe Gen4 SSD
GEEEK G1-SE
 Feel free to request an updated quote for this build 
Gallery