Project Metaverse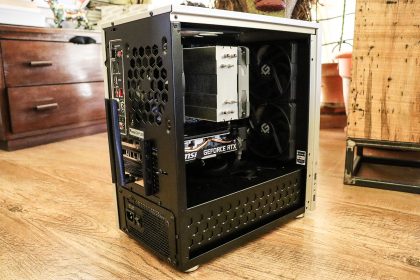 Metaverse – A place of infinite possibilities where creativity manifests and ideas come to life. Hehe… sounds like a far fetched idea but this is what Project Metaverse means to us… Owner will probably laugh knowing how the name came up.
Metaverse is a workstation PC for that will mainly be used for architecture work. CAD, rendering, and a bit of simulation. The build is meant to look elegant and timeless thus we settled for the brushed aluminum case.

Overall the build is a solid setup that can be upgraded in the future. One thing we noted was to put in a bigger CPU cooler or dual fan setup. The 3600 would get to around 78 degrees Celsius under load tests. Would like to improve on that figure.
Thank you to the client for the opportunity to work on their machine. Despite the delays experienced due to uncontrollable circumstances he was very patient with us. Notice the different cards in the pics, had to wait for a while to get everything.

AOB: Remember to keep friends and family safe, Wash your hands.
Specifications
AMD Ryzen 5 3600 (6 cores / 12 threads)
MSI B450m Mortar
Thermalright AS120
Team Vulcan-Z 32gb DDR4 3200Mhz
MSI Ventus RTX2060 Super
EVGA G+ 650w Gold
WD Blue 250gb 2.5″ ssd
WD Blue SN550 500gb nvme ssd
Jonsbo C3 Plus
Fenvi FV-8802 pci-e Wi-Fi AC + Bluetooth 4.2
 Feel free to request an updated quote for this build 
Gallery