Project Joker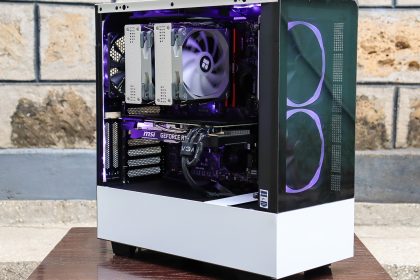 A while back a friend approached us with quote requests for a build (for his friend). What started out as a simple budget build turned into a ludicrous back and fourth foray of changes to the spec and this is what we ended up – The Joker!
Given the nature of PC parts costs I'm always reserved when it comes to picking out parts, usually functionality over form but I was told to flip the script in reverse – kind of. Enter the NZXT H510 Elite, a glass case that managed to get through shipping without breaking. You should have seen the outside box… haha!
The case would be the main show piece. Comes with a NZXT lighting controller, two front 140mm AER rgb fans and an led strip at the top. We needed more light so threw in a few more strips. Plus the cooler had to be lit too (insert emoji). Turns out it looks really nice. Especially at night. I would definitely build again, with a few changes of course. Fitting that Thermalright cooler in there was hectic. Basically, pre install all your wiring before mounting the cooler.

Finally, the NZXT CAM software is really convenient, you can control each fan speed + even set curves using CPU OR GPU temps. This would be the #1 reason I would go for the "smart" setup. Usually you'd be forced to approximate your fan curves only using CPU as a source so that's a really neat feature. And RGB (bless you)
Closing thoughts : Thank you to the client for the opportunity to work on the build. Will definitely be more open minded to trying out more premium hardware. And also thanks for the referral – Hz.

AOB: Remember to keep friends and family safe, Wash your hands.
Specifications
AMD Ryzen 7 3700X (8 cores / 16 threads)
MSI X570-A PRO
Thermalright FS140
Team Vulcan-Z 32gb DDR4 3200Mhz
MSI Ventus RTX2070 Super 8G
EVGA G3 650w Gold
WD Blue SN550 500gb nvme ssd
Seagate Barracuda 2tb hdd
NZXT H510 ELITE
FENVI FV-AX3000 pci-e Wi-Fi 6 + Bluetooth 5.0
 Feel free to request an updated quote for this build 
Gallery